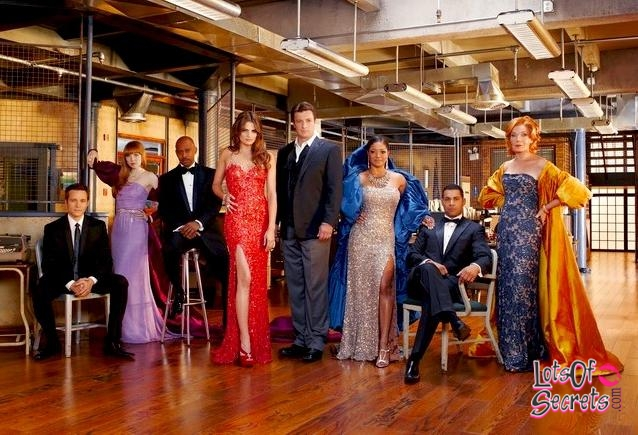 Above: Castle Cast from left: Seamus Dever, Molly C. Quinn, Ruben Santiago-Hudson, Stana Katic, Nathan Fillion, Tamala Jones, Jon Huertas and Susan Sullivan
And the wait was officially over on Monday, September 20.
If you are new to Castle, you might want to check out the intro post where the characters and the plot basics are desribed. And if you are already a fan of Castle and/or The Mentalist, you might have a good time comparing these two solid crime/action/mystery/thriller shows, remembering Castle is the funny and Mentalist is the emotionally much more intense one.
Before I get into the plot and review of the first episode of Castle's 3rd season, let's remember where the characters (romantically) left off: (yes, there will be spoilers for season 1 and 2)
NYPD Homicide Detective Kate Beckett (Stana Katic) and Famous Best-Selling Crime Author Richard Castle (Nathan Fillion) caught the perfect dynamic and sold numerous difficult and challenging cases together. Castle 's mother Martha (Susan Sullivan), daughter Alexis (Molly C. Quinn ) and Beckett's crew- Esposito (Jon Huertas) and Ryan (Seamus Dever) are all aware that these two have more than friendly feelings for each other but neither is directly admitting to it.
So Beckett had a couple of dates and Castle had some attempts at other flings, but the audience was fully aware that they would rather date each other if they could. The "will-they? won't-they?" dynamic reached its peak when 4 episodes into the finale of season 2, we met another Detective, Tom Demming (Michael Trucco). Tall, fit, dark and handsome Demming met Beckett at the workout session at their precinct during a workout session. Being a robbery detective, Demming assisted them on a case – much to Rick's contempt, jealousy and discomfort. Of course he was right to be jealous. After Demming proved he was indeed a good cop and a good guy (he did ask Castle if there was something going on between him and Beckett and Castle said no), he asked her out and the two cops started dating.  His constant presence, in both helping the cases and hanging around Beckett, drove Castle crazy.
Beckett was confused but her crew convinced her that Castle was too obviously into her and well…Beckett let Demming go. Unfortunately, right at time, Castle had given up on Beckett, as he thought he couldn't compete with Mr. Perfect. So he did hook up with someone: his second ex-wife/agent Gina (Monet Mazur). So when Beckett saw them together, she didn't mention the break-up and Castle went to the Hamptons with his ex.
Season 3- Episode 1- Plot Summary & Review
Opening scene: Castle is at a crime scene, holding a gun. He hears shots, he runs outside. He runs across Beckett, who is facing him with a gun, telling him to get down. No one else seems to be in sight so how did these two end holding guns at each other?
Cut to 3 days earlier…
It's yet another day in the fall at the NYPD and Castle isn't back. He also hasn't called, so in addition to Beckett, both Esposito and Ryan are pissed and disappointed. Castle's has finished his new book though, and it is on sale.
While the cops are investigating the death of a high school chemistry teacher, they are lead to a second murder scene- the flat of a tattoo artist. They also find Castle there, holding a gun. Starting with Castle as a suspect, they get to work together on the case after his innocence is proven. There is also a third murder, an impossible connection between the three deaths and the usual unresolved angst and the regular jokes between Beckett, Castle and the crew…
No, I am not telling the details or the end or how the opening scene resolves. Come on, people!  You need to watch it to enjoy it fully.
Fun Line:
As the crew stand outside the bookstore window, looking at the life-sized, cardboard version of Castle:
Ryan: He really is ruggedly handsome.
Enjoy!
All Other Castle TV Show  and Nathan Fillion Related Posts
Castle starring Nathan Fillion vs. The Mentalist starring Simon Baker
Why Every Writer Should Watch ABC's Mystery Thriller Castle
Seven Engaging Tv Shows with Suspense Featuring Castle, House, Ncis Los Angeles and More
20 Tall Hollywood Actors & Their Careers: Featuring Nathan Fillion, Michael Trucco & More
Canadian Celebrity Trivia: Featuring Bryan Adams, Jim Carrey, Nathan Fillion & More