It occurred to me I never got to write about this sweetheart of a flick. I wrote a lot about Gerard Butler and while I included pictures from the movie before , I never wrote a proper movie review. Shame on me. So here we go:
Gerry (Gerard Butler) is an adorable Irish guy married to the American Holly. Though they have been married for some time now, they are still crazy about each other. Sure, they have problems; but nothing they can't get over. So Holly's world comes crashing down when Gerry suddenly dies. It has been love at first sight. And after a great marriage of 9 years, Holly just doesn't know how to cope. But the sweet man that he is, Gerry has thought ahead. He has written letters and arranged them to arrive to Holly at certain times after his death. He speaks to her through the letters, instructing and guiding her, in an attempt to help her cope with his death and life. The letters will take Holly to both fun and emotional journeys in the past, present and the future…
The movie is based on the book of the same name by Cecelia Ahern. I read the book before I saw the movie and though I appreciated the sensitivity of the book, I enjoyed the movie much, much more. Hillary Swank is lovely as Holly and Gerard Butler makes an excellent Gerry. I am also a fan of movies that cast actors that I got to like from previous projects. Friends' Phoebe Lisa Kudrow plays one of Holly's best friends and Buffy's Spike James Marsters plays Gerry's best friend. Singer/actor Harry Connick Jr., plays the bartender.
Last but not least, Grey's Anatomy's Denny Duquette and Watchmen's The Comedian Jeffrey Dean Morgan has a small but important role.
The only thing I didn't like about the movie was Jeffrey Dean Morgan's part. Developments concerning his character just feels rushed. And after watching a story that makes us love Gerry, it feels like you are betraying him. Other than this, director/co-writer Richard LaGravenese has done a decent job.
You should take this lovely journey with Holly. It is romantic, funny and emotional.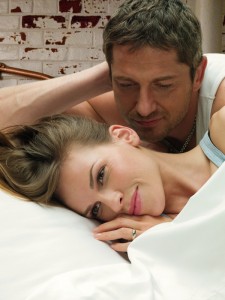 10 Responses to "P.S. I Love You starring Gerard Butler, Hilary Swank and Jeffrey Dean Morgan"