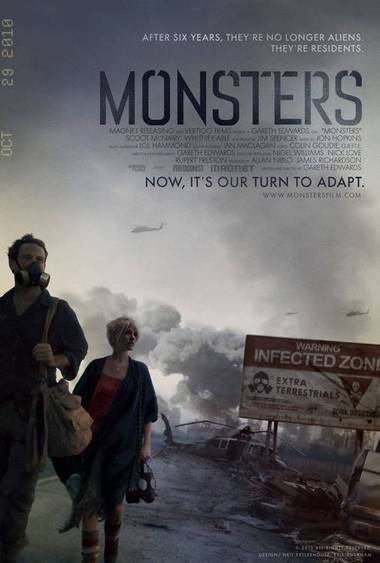 The aliens attacked the earth 6 years ago, and since then, Mexican and American armies are trying to contain them in the infected zones.
Andrew (Scoot McNairy) is an American photographer in Mexico. When his boss asks him to accompany his daughter Samantha, he reluctantly agrees to take her to the coast.
At first Andrew thinks that she is some spoiled rich woman, and she thinks he's just a guy who cares more about money than he does about people.
But as the journey proves to be longer and more complicated than expected, they get to know each other more, and resulting in a strong bond and attraction.
They prefer not to think about it much since she's engaged, and he is to return to Mexico to take pictures but the journey is still far from over…
*
I love a good romance movie taking place in a limited time between two strangers.
I also like sci-fi films where it is much more about the human element than the fight with aliens.
Monsters is a surprisingly good combination of a romantic road movie and an analysis of the aftermath of the aliens coming. As the tagline spookily offers: They are no longer aliens. They're residents.
Now, some people complain about how the romance was rushed towards the end. Well, the romance wasn't rushed. It was just never in your face.
Because there isn't supposed to be a romance. It's just supposed to be a guy doing obligatory safeguarding to protect his job.
But that is not to say it is an unrealistic situation where two people who wouldn't give normally give each other the time of the day happened to bond over a dangerous situation. Yes, there's the "alien" element which does provide an overall surreal atmosphere both for us and them. Still, I have no problem believing  that these two could meet somewhere, and get to talking, the same connection would occur. It would possibly take longer, but it would happen.
That being said, the movie balances the "romance" with the after effects of the invasion on everyday life. There's also the appearance of the aliens and their attacks.  Overall it is a delightful sci-fi/ drama road trip.
If you don't want aliens but want to watch a more romance-oriented movie focusing on the meeting and connecting of two strangers, try Before Sunrise and Forget Me Not. I adore them both.
If you want a lot of alien attack scenes, well, I'd not even know where to start recommending them. You've probably already seen the Alien series.
And if you just want good old, mindless entertainment with a lot of action and some good humor, you could always give Independence Day a try.
Or you might want a post-apocalyptic world where there is no romance – just humans vs. other humans. Then be prepared to be awed (and depressed by) movies like The Road.
My point? There are many, many movies you can watch – movies dedicated to each element of the film unless you are happy with the combination.
Monsters, however, should be seen because of how everything is woven together. That's where its charm lies.
The budget is low, but the result is sincere, emotional and engaging. It has its slow moments, and don't expect to be scared. Some tension, though, will be provided.
I liked it, and hope it will also leave you with some warmth (and a bit sadness) too.
It was written and directed by Gareth Edwards, who was nominated for BAFTA for this effort.
Fun Fact: On-screen pair Whitney Able and Scoot McNairy were dating during the time of the movie (don't know if they still are). According to IMDB, Scoot is the one who suggested her for the part. Now, that's a good boyfriend for you.