1) BRAVEHEART (1995)
It is captivating, full of action and battle, uses just the right amount of humor to lighten the mood, a great love story, perfect cinematography, 5 Oscars including Best Director and Best Film, effective acting…
Mel starred, directed and produced. It is purely humane. Some scenes still haunt me. If you have seen the movie, you know which ones.
If you need more reasons to see this one, check out my  Braveheart review
2) The Man Without a Face (1993)
Mel Gibson's lesser known and much under-appreciated directorial debut. It is plain, straight to the point and has a beautiful story. A young boy from a dysfunctional family- Chuck- finds true friendship and a fatherly role model when he meets Justin McCloud. Justin's face is severely disfigured due to a tragic accident that burned one half of his entire body. The town people consider him a freak, and well it is the perfect past time activity to gossip about him in a small town full of small-minded people. Chuck used to join the jokes about ( and fear of) McCloud until he meets him by accident. Justin is an ex teacher, very fond of his privacy. He stays away from people and has found peace that way. Chuck proves he is worthy of his time and they start studying. Chuck keeps his friendship secret for as long as he can. But when the word gets out, all of the rumors behind Justin's background and how the accident happened…The town gets a perfect chance to publicly judge Justin. After all, if he has had such a horrible accident, he surely must have been guilty of something equally "horrendous"..like making a pass at one of his former male students???
It is a beautiful tale of love,loyalty, prejudice, friendship and mentorship. Mel's performance is great and I don't honestly know why some think he is not a good actor. If you think he got so popular because of his crazy actions off camera or his former good looks, this movie will prove you wrong. See it.
3) Ransom (1996)
Maybe I should have put Lethal Weapon here but I put more effective performances over his more entertaining ones. It is one thing to be able to engage people through comedy and action, and it is a different story to get under their skin& make sure they have a good time through a powerful action/drama. And Ransom is just that. It must be one of the best remakes ever. Mel was nominated for a Best Actor Golden Globe with his performance as Tom Mullen
Tom Mullen is a multi-billionaire. Sure, he has done some "shady" stuff for his business, but basically he is a good guy who loves his wife and son. When his son is kidnapped, Mullen is devastated. The whole thing is a media frenzy. The kidnappers' leader is a cop and he actually has no intention of letting the boy go. When the first rescue attempt goes awry, Tom enforces a radical idea. Instead of paying the 2 million dollars to the kidnappers, he will pay 4 to whoever catches them. This causes panic and angry reactions from his wife. There are two alternatives: Either Tom's idea will work. Or his boy will die because of him. How will a father survive if the latter happens?
It is haunting and strong.It helps that the baddies include Gary Sinise and Liev Schreiber. Mel Gibson and Rene Russo always make a great on screen couple. This is a very solid film.
4) Lethal Weapon
Watch the classic scene:
What else? I watch them over and over again and still enjoy the comedic chemistry between Riggs and Murtaugh. They couldn't be more opposite but yet they are both great cops who eventually develop great friendships. Riggs is crazy. Or maybe he just pretends to be because he feels like he has nothing to lose. He has lost his wife that he loves dearly and being on the edge makes him a dangerously good cop but maybe not such great partner. After all, Murtaugh (Danny Glover) is a traditional, serious fellow with a big family. Hilarious, action-packed. The series have 4 movies. Though I love all of them, I favor 1 and 3 more. Frankly, I'd have gone to see a 5th, had director Donner decided to collabrate with Gibson and Glover again.
5) Conspiracy Theory
It might be cheating to count Lethal Weapon as 1 movie but how else was I supposed to choose 10 out of mostly solid over 30 leading roles.
(When you take out his TV-show and very early and very late movies he is barely in, there is still a list of good movies to choose from).
I love the script!! The script is original, the production is great, lead character Jerry is hilarious and very well-acted. Taxi-driver Jerry (Gibson) is in love with lawyer Alice (Roberts) who thinks Jerry is just an adorable lunatic. While Jerry wouldn't consider himself the most stable person, his paranoid actions are actually not without a cause…
The movie includes a scary government conspiracy, solid action scenes, a quirky anti-hero and his love interest not being able to decide who the actual good guys are…
Entertainment at its best. Watch the first scene to give you a taste.
6) What Women Want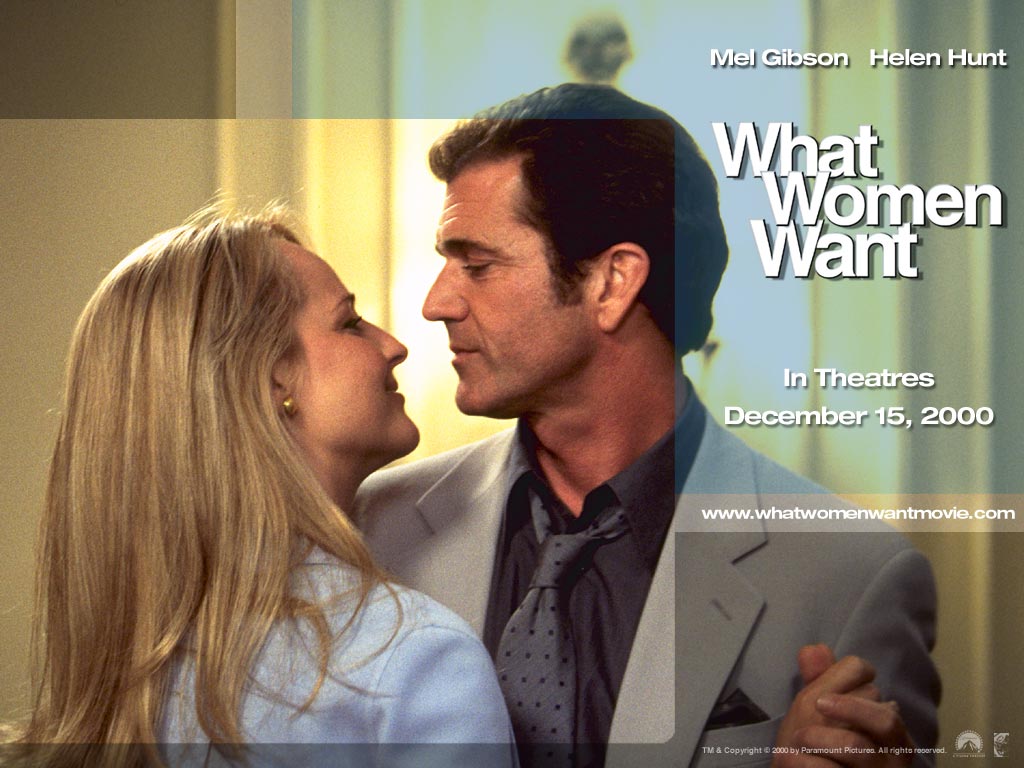 This is Mel's only romantic comedy. I wish he would do more. This movie made me fan of writer/director Nancy Meyers. She has gone on to write lovely stories (Somethings got to give, The Holiday), but she never got to top this one.
Nick is at best a cute but chauvinistic guy. He is a man's man. Although he is successful with women, he has no clue what they actually want and he doesn't really care. He is on good terms with his ex wife but his teenage daughter despises him. Then three life-changing events happen:
1) His "much deserved" promotion goes to a female called Darcy who was just hired.
2) His daughter comes to live with him for a couple of weeks
3) He has a funny accident that results in him being able to hear what women think.
At first it seems like a nightmare but then he starts taking advantage of the situation both romantically and professionally. However things get very complicated for him when he actually starts to fall for Darcy…
Nick eventually becomes a better man/dad but his journey is just wonderfully funny. This is a romantic comedy guys would love too.
7) Tim (1979)
People especially love discussing an actor's accent. Well, do me a favor and spare your criticism for Mel's. He has been quite often mistaken as an Australian. He has lived in Australia for about 10-15 years; from the age of 12 to his mid 20s. So, his accent is really…well…natural.
And if we are going to discuss whether he is diverse or not, I am going to say he is. Sure, he loves playing "crazy" characters with a wicked sense of humor (Lethal Weapon) or the heroic guy who is forced to go to extreme measure's to avenge/ save a loved one (Braveheart, Ransom, The Patriot…), Tim is nothing like that.
Mel plays Tim- a nice and naive half-witted guy He lives with his parents and even though he is in his mid-20s, he is mostly like a kid. His parents and sisters are used to taking care of him and controlling his life. After all, there are many people who just love to make fun/take advantage of the less fortunate, right? However their lives change when Tim meets Mary (Piper Laurie). She is an older, successful businesswoman who comes to her house for vacation. At first, she hires him to the odd jobs around the house but as she gets to know him, she realizes that he was never given the chance to reach his potential and stand on his feet, not even by his parents. As the two become friends, his father is quite happy that Tim knows such a kind person. His sister, however prefers to see Mary more like a middle-aged pervert. But then again, Tim is not a kid. He is a 25- year-old "boy" falling for his new friend. And Mary starts falling for him too…
Academy loves Forrest Gump but you will be missing a lot if you don't see Tim. Apart from the innocence/intelligence level of the characters, the two films almost have nothing in common.
Give Tim a chance.
8 ) Forever Young (1992)
As far as romance movies go, this is one of the more special ones. First of all, the leading actress is NOT who the male lead has fallen for. Second, the story is a good combination of sci-fi, humor, romance and friendship. Third, the writer is J.J Abrams. You know- the guy who created "Lost" and "Alias"
To read a more detailed review and to watch some scenes from Forever Young
In short, Gibson plays the Pilot Daniel in love with his childhood sweetheart. When she goes into a coma, he is devastated. He enlists the help of his scientist friend. He asks to be the subject of his latest experiment where the living are to be frozen and put to sleep; only to wake up perfectly healthy at the exact "age" they went to sleep. His friend gives in to Daniel's desperation. But when Danny wakes up, it is 1992, everyone he knows is dead and his only ally is the kid (Elijah Wood) who accidentally woke him up…
Lovely film.
9) Tequila Sunrise (1988)
Tequila Sunrise is a fun action/romance that perfectly represents the end of the 80s and what's to come in the 90s. And sometimes, all you want is a good action film with a cast you like. How do you feel about Mel Gibson, Kurt Russell, Michelle Pfeiffer and Raul Julia? Plus, it is fun when Mel is not the cop for a change…
Mac (Gibson) is a drug dealer; trying to quit. He is not your typical "baddie". He is a divorced parent of a son he adores, and very much in love with the owner of the restaurant ((Jo Ann- played by Pfeiffer) he frequents. Jo Ann is not aware of Mac's feelings and she doesn't know about his "business". But cops are dying to bust Mac and it is not helping matters that the cop assigned to the case is Nick (Russell), Mac's ex- best friend.
Well, Nick doesn't really want Mac behind bars but he has a job to do. He needs to find out if Jo Ann is involved and it is not helping matters that he is incredibly attracted to her…
– Love triangle between 3 beautiful people? – Check
– Action, complications, drugs? – Check
– Gray Characters where most are neither purely good nor evil? – Check
Interesting, enjoyable and sexy. Yes, it is sexy. And its plot is much better than most action films out there.
10) Mad Max (1979)
I am not the biggest fan of civilization-has-gone-to-hell sort of films. You know: bikers rule the city, crime rate has hit the ceiling, heroic cops can't really prevent disaster…But Mad Max is a cult classic that deserves to be one.This is his first major role and it put him on the map. It is because of Mad Max and its all Australian cast (except for Mel) that there are people who believe Mel is an Australian.
The story is very simple, baddies are crazy and annoying enough and it is so easy to like and empathize with Max. He was a doting young husband/father and when the "gang" came after him and his family.When he fails to protect them, well…it is just turns into a search for vengeance at full speed.
It helps that Mel is so innocent-looking and terribly young here. Yes, folks there was a time when Mel Gibson wasn't middle-aged. He is not even handsome but very beautiful. See the movie and you will know what I mean.
Again, I am cheating. Mad Max is a trilogy although the 4th without Mel's lead (although with his participation) is in the works. The first is my favorite. It is just…It feels more pure.
All My Other Posts on Mel
 All About Mel: A Fun Yet Fair Mel Gibson Tribute
 Golden Globes Highlights – Ricky Gervais
11 Great Mel Gibson Films You Should Consider Watching
4 Responses to "Mel Gibson Top 10: The Mel Gibson Movies that prove he can act, direct and entertain better than anyone"