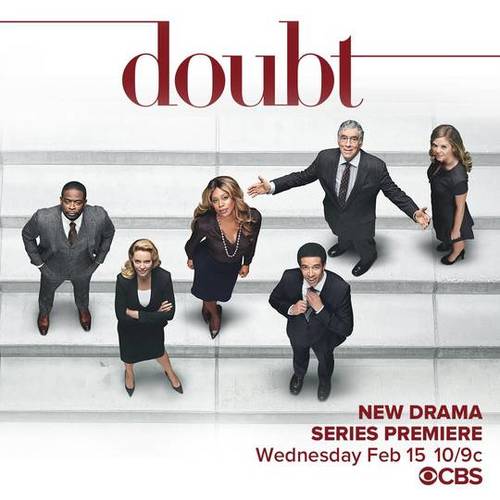 Doubt is a 13-episode legal drama series that was canceled after its first season. It is a shame because despite its shortcomings, it was a fun show with great actors, engaging storylines, and interesting (bordering on hilarious) characters.
I think Doubt lost mostly because it is main/ongoing court case has been done so many times before. Tell me if this jogs your memory:
A beautiful lawyer takes on the case of a handsome murder suspect. He claims he is innocent. She believes him because he is such a nice, charismatic and thoughtful guy. They fall in love, but, oh my god, the conflicts…
The first one I can think of is Jagged Edge starring Glenn Close and Jeff Bridges. While Jeff Bridges was no means a very nice guy even in the beginning, he was certainly gorgeous and charismatic. Those of you who don't remember Jeff being gorgeous, do watch the film.
But Jagged Edge was in 85, and even when I saw it in the 90s (hey, I was barely 1 in 85!), it didn't feel that fresh.
Since then, I have seen" the gorgeous and talented lawyer falls in love with gorgeous and innocent-looking murder suspect client storyline" so many times that I can't believe this was seen as an acceptable, driving storyline.
Note: The following paragraph includes major spoilers for the legal drama series The Good Wife starring Julianna Margulies.
So why did I keep watching Doubt? For one thing, I was happy Steven Pasquale was allowed to woo the leading lady and stay in the show. He was going to date Alicia Florick in The Good Wife, but writers changed their mind. (I remember a kiss, and maybe a one-time thing? My memory is fuzzy.) But I'm sure Steven didn't take it personally as writers didn't choose Will Gardner for Alicia. Then the cute ADA Finn (Matthew Goode) disappeared. Then she hooked up with the hot private investigator Jason (Jeffrey Dean Morgan) but she chose herself in the end? I have too many issues with The Good Wife storylines. I just never got over Will's death. Oh well… I'm tremendously enjoying its spin-off The Good Fight, though. No Floricks.
OK, back to Steven Pasquale. Then I thought he was going to complicate the already complex and troubled marriage of Chuck and Wendy Rhoades in Billions,
But that ship also sailed as his character disappeared after two episodes.
So yes, even the storyline itself was annoying, it was a lot of fun to watch him. He was made for his part. And hey, I like Katherine Heigl. I guess she will probably always have my admiration and love for her part as Izzie Stevens from Grey's Anatomy and her relationship with guest character Denny (also played by Jeffrey Dean Morgan.) And Elliot Gould is a joy to watch.
OK, so yes, this is a canceled series. But if you like legal dramas, quirky characters, social justice, diverse characters and a great office environment, I recommend the show anyway.
And let's get to the plot and the characters:
Doubt Plot Summary and Characters
Sadie Ellis (Katherine Heigl) is a brilliant lawyer. She was practically brought up by her boss Isaiah Ross (Elliot Gould) since her mother (Judith Light) went to jail when she was very young. Ross is her mother's lawyer, and he is in love with the mother, and this has lead to his divorce. They keep working on an appeal, but her mother's performance and her seeming lack of remorse fail them at parole hearings. She only works, and her best friend is another successful lawyer at the firm, Albert. (Dulé Hill)
At the moment, their most important case is the murder trial of Billy Brennan. Poster child for white privilege, Billy is a handsome, heterosexual, and rich doctor with even richer parents. 26 years ago, when Billy was a teenager, his girlfriend at the time was murdered brutally. He wasn't charged then due to lack of evidence, but the new DA makes it her mission to put him behind bars. Billy swears he is innocent, and he and Sadie can't help but fall for each other pretty fast.
Apart from Billy, they have different cases per episode as well, and they are interesting. There is plenty of time spent in court, which is something we do need from legal dramas.
*
Fun notes on The Guest Stars
Elliot Gould, who plays Sadies's boss and father figure, played Ross and Monica's father on Friends. His wife on Friends was played by Christina Pickles, also guest stars as Billy's dead ex's mother.
One of the judges is played by Michael Badalucco, a regular of the hit legal drama The Practice, starring Dylan McDermott and created by David E Kelley.
*
Doubt: Yay or Nay?
So it wasn't a hit, but I had fun – until the very last episode. The last episode caused a major facepalm moment.
SPOILERS: (For Doubt and Jagged Edge)
Guess what? Billy is guilty. And Sadie finds out and tells Albert. Oh…..
Was that supposed to be a cliffhanger?
Come on!
They could have Billy innocent.
They could have Billy lose and go to trial.
They could have Billy win, turn out to be guilty and Sadie not finding out.
But no. They had to go all Jagged Edge on us, minus a deadly fight between Billy and Sadie, though arguably, that was what they had in store for us if the show had been renewed.
Both as a writer and reader, I urge writers to stay away from this storyline of gorgeous lawyer falls in love with gorgeous murder suspect client, they fall in love, trial is won, client turns out to be guilty – the lawyer finds out.
Please change it around.
*
Still, check out Doubt and see if you like it. You can always turn it off if you don't. And if you are a Steven Pasquale fan like me, check out his also canceled series Do No Harm. It's 13-episode thrilling ride where a doctor with a dissociative identity disorder tries to keep his psycho identity from ruining his good life.