The first time I heard the name "Tristan" was when I watched Legends of the Fall, starring Brad Pitt. I had found Tristan to be a pretty cool and unique name back then. I also love the movie so it stayed with me. Later I saw the movie Tristan & Isolde, a lovely romantic adventure/drama starring James Franco. Then came Stardust, and Charlie Cox's Tristan.
Enjoy 3 movies that all have Tristans as their leading characters. The order is random.
1) Movie: Tristan and Isolde
Actor playing Tristan: James Franco
Directed by Kevin Reynolds, 2006's Tristan & Isolde co-stars Sophia Myles, Rufus Sewell, Henry Cavill & Mark Strong.
James Franco plays Tristan, a man raised by Lord Marke (Rufus Sewell) after an Irish attack left Tristan an orphan. Based on the legend, Tristan and Isolde is a powerful love story. When Briton Tristan is presumed dead, Irish princess Isolde (Sophia Myles) takes care of him. They fall for each other but they have to part. Unfortunately, their "reunion" comes in the least desired format: Tristan unknowingly has "won" Isolde as a bride for his Lord Marke. How can the two stay apart? Yet how can be together?
Tristan is a great soldier, friend, leader and lover. He is generally very loyal, in fact he would have gladly have died for Marke but the fact that he fell for Isolde before she married Marke complicates things. Tristan feels tremendous guilt and is thorn between his love for Isolde and his love for Marke.
Read Tristan and Isolde Detailed Review featuring Plot Trivia and James Franco Links
2) Movie: Legends of the Fall  Brad Pitt
Actor playing Tristan: Brad Pitt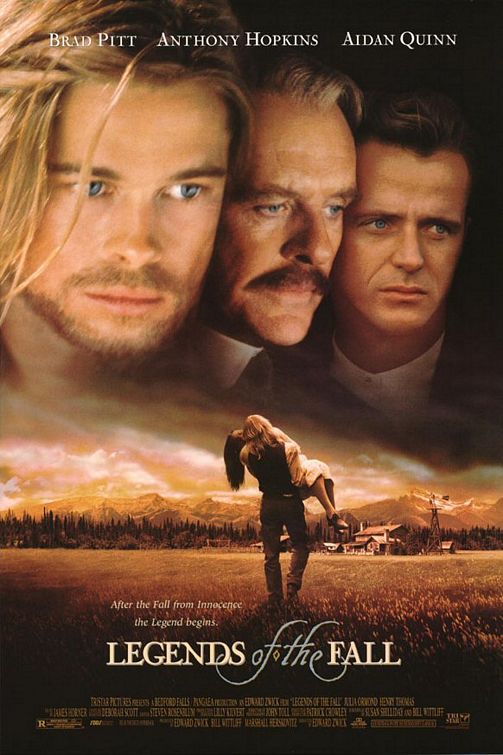 Directed by Edward Zwick and co-starring Anthony Hopkins, Aidan Quinn, Julia Ormond & Henry Thomas, Legends of the Fall is an epic romance/drama/war whose story covers many years.
Brad Pitt plays Tristan Ludlow, a young man living in 1900s America with his father –former soldier William (Anthony Hopkins), his older brother Alfred (Aidan Quinn) and his younger brother Samuel (Henry Thomas). Tristan is the free-spirited, rebellious and adventurous one. Alfred is rational and responsible and they both dote on their youngest and more fragile brother Samuel. Things are fine until Samuel brings home his beautiful fiancé Susannah (Julia Ormond). Both Alfred and Tristan are attracted to her, but this doesn't become an issue until World War I breaks out. The boys go off to fight, and Samuel doesn't survive. Upon their return, Tristan and Susannah start a passionate romance, totally frowned upon and envied by Alfred. Tristan is not happy, however – he needs to go off into the wilderness, to find himself and get over the death of his brother. But will Susannah be able to wait him forever?
3) Movie: Stardust
Actor playing Tristan: Charlie Cox
Charlie Cox's Tristan lives in a village that neighbors a magical kingdom. In fact, his existence is due to the fact that his father Dunstan (young Dunstan is played by Ben Barnes) crossed over to the magical kingdom, met a witch's slave and fell in love with her. Tristan is desperately in love with Victoria (Sienna Miller), a spoiled girl who is more interested in money and title. Tristan decides to win her heart by bringing her a fallen star but to his disbelief, the star is actually young beautiful woman called Yvaine (Claire Danes). He has to go through a journey with Yvaine and at first they can't really get along. But this is a journey full of unexpected twists, full of pirates, witches, crown-crazed princes and more.
Directed by Matthew Vaughn and based on Neil Gaiman's graphic novel, 2007's Stardust has one impressive cast including Michelle Pfeiffer, Claire Danes, Robert De Niro, Mark Strong, Rupert Everett, Ricky Gervais, Sarah Alexander (Susan of Coupling), Ben Barnes, Sienna Miller and Henry Cavill. Interestingly enough, both Henry Cavill and Mark Strong co-star in both Tristan & Isolde and Stardust.
Recommended Posts
If you enjoy movies with impressive casts:
6 Good Movies with Brilliant Casts feat. The Good Shepherd, Playing by Heart, Hairspray & More
Other Posts on Brad Pitt
Fight Club starring Brad Pitt & Edward Norton
Movies with Awesome Endings feat. Se7en starring Brad Pitt & Morgan Freeman
Lestat, Dracula and Other Vampires feat. Brad Pitt, Tom Cruise, Gerard Butler, Gary Oldman & More
Hot Actors Over 40 Feat. Keanu Reeves, Brad Pitt, Josh Holloway, Matthew Fox, Edward Burns, Hugh Jackman & More
Hunky Actors of the 80s and 90s: Brad Pitt, Patrick Swayze and Christian Slater
Other Posts On James Franco
City by the Sea starring Robert De Niro, James Franco & Frances McDormand