22 Romantic Comedy (Chick Flick) Clichés- Inspired by Bradley Cooper, Justin Long & Kevin Connolly
Each moviegoer has something to say (usually to complain about) about the clichés in a romantic comedy (or chick flicks as guys tend to use it as a synonym, though most romantic dramas are also categorized as chick flicks, mostly by guys.)
It's hard to ignore the clichés in a romantic comedy since the whole genre is based on a formula. You know the drill: We at least need two people who will fall in love (or who are already in love) who will go through some difficulties and funny moments but in the end will stay together. Even when we are faced with two options for one of the main characters (This Means War, Sweet Home Alabama, Someone Like You, The Wedding Planner, The Ugly Truth…) we always know which one the girl/guy will pick, because only one of them obviously is right.
Now, I'm not going to include movies like The Break-Up or 500 Days of Summer because they break the cycle of romantic comedies by…well, not ending up on a good note (or at least not on the good note expected from them). Oh, come on! Please don't blame me for spoiling those movies. Look at the name of the first one, and the premise of the second one (boy and girl meet, boy falls in love, girl doesn't.)
Now, while I somewhat enjoyed The Break-Up and 500 Days of Summer (yes, this one was a lot better) , but they will never be my favorites. I get enough realism in real life or my dramas, so when it comes to romcoms/chick flicks, I want a fun and happy ending.
Not that I will say no to a touch of freshness or more action. So an R-rated romcom (such as Friends with Benefits as opposed to the common PG-13 romantic comedies), or a romcom with a lot of action (in fact some has action/comedy in the core and romance in the background-such as Knight and Day, which I adore.)
Where Bradley Cooper, Justin Long & Kevin Connolly Come In
But that doesn't mean I'm fond of the clichés aside from a love story and a happy ending. If the movie is good enough, you may not notice or be annoyed by them. Or you might enjoy how the clichés are used.
But after having watched the hilarious video of Bradley Cooper, Justin Long and Kevin Connolly, the clichés even started to be more obvious to me. They list all the obvious clichés in a fun effort to address the unwillingness of most males to scorn at the genre. So in order to show how their movie, He's Just Not That Into You, doesn't involve these clichés (so guys shouldn't avoid their movie on principle), they have shot a hilarious video.
And in their defense, their movie really isn't full of clichés. Not all couples get a happy ending, not all men and women are romantic souls that are nice to others. Based on the best-selling relationship book of the same name, He's Just Not That Into You takes the situations in the book, and proves all the tips and advice in the movie. The book is a no-bullshit, tough love, honest look into all relationships, and how men's behavior are only open to one interpretation in 99% of the time.
I have to add, though, I like many of the movies I mentioned in this post. My true feelings are of course explained in the reviews, which I linked to.
Not surprisingly, many movies got into several categories.
Below are their clichés, examples from movies. Oh and please watch the video for their hilarious parodies!
*
First the 10 clichés that He's Just Not That Into You Doesn't Have:
1) Make-over montages:
I don't remember if it was presented in a montage, but the movies' premise included or centered on it (there are a lot, these are the first 3 that popped to my head):
Never Been Kissed: Nerdy reporter Josie (Drew Barrymore) goes through 2 make-overs, 1 fails miserably. Then she is turned into a regular-looking but naturally pretty and sweet high-school student with the right clothes and nice hair.
She's All That: Popular jock gets into a bet with his friends to prove he can turn the art nerd (Rachel Leigh Cook) into the pretties date for the prom. Yes, she will find out and raise hell. Yes, he'll already have fallen in love in the process.
2) Singing into Random Objects:
Easy A: More comedy than romance (%90 comedy), and it is hilarious.However Emma Stone gets addicted to a silly pop song after receiving a birthday card that plays an overplayed pop song and starts singing everywhere, including the shower.
P.S. I hate that song!!!
3- a) Quirky best friend:
Cake:  Lead: Heather Graham
Quirky Best Friend: Sandra Oh (a.k.a. Christina from Grey's Anatomy.)
Though in the writers' defense, the lead was pretty quirky too.
b) Sardonic best friend
c) Sassy best friend
Ok, can't remember for the last two but will update once I do.
But let's just say that Judy Greer (The Wedding Planner),  has made a niche of playing the best friend, who is often sardonic, quirky, sassy or a weird combination of all.
Oh, and don't forget the diehard romantic best friend who swoons at the romantic gestures and outbursts: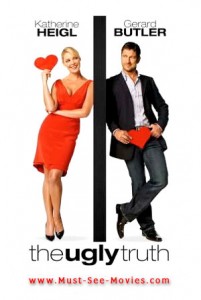 The Ugly Truth: Katherine Heigl's best friend/assistant.  She is very impressed with Eric Winter's sweet gestures, but it is Gerard Butler's confession that really melts her.
4) Characters having a one-night stand only to discover that the stand is his/her new boss.
Forget about the movies. The ultimate chick-flick series Grey's Anatomy (whose first 2 seasons I like, by the way) start with Meredith Grey (Ellen Pompeo) sleeping with cute Derek (Patrick Dempsey) only to realize that he is one of the attendings at the hospital she'll be an intern at.
Cooper and Long even parody the elevator scene in the series that'll take place shortly after, though the Grey's Anatomy elevator scene has more action.
5) Sliding Down against a wall, crying.
Now does that happen that often? Can't think of an example right now.
5-a) Laughing and crying at the same time
(Though more smiling than laughing)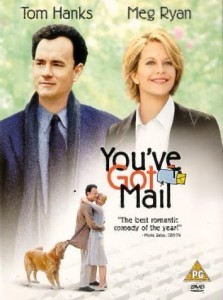 You've Got Mail: Meg Ryan does it at the end, although that scene really went quite well with the mood of the movie, and her expectedly surprised state.
6) Elderly folks saying things that are inappropriate
Couldn't remember this one, though there are lots. And I'd like to add "elderly folks intervening because they think one of the characters is hot."
Love and Other Drugs: Jake Gyllenhaal is trying to persuade Anne Hathaway to get off a full bus so that he can talk to her for a bit. The old woman behind Anne prompts her:
"He's handsome dear."
In her defense, though, Jake Gyllenhaal is handsome, so that remark is realistic.
7) Chasing to stop them from going somewhere to stop them from doing something – at an airport or a train station, wedding….
Especially airports and weddings win the medal for being the most-overused ones.
This has to be the most common one!
Love and Other Drugs: Jake Gyllenhaal stopping Anne Hathaway to tell her how he feels and convince her once and for all that they belong together.
The Proposal: Ryan Reynolds stopping Sandra Bullock from leaving her office to go to Canada, to tell how he feels and how she can stay.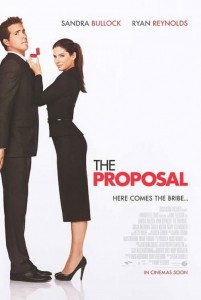 French Kiss: Kevin Kline stopping Meg Ryan from going back to The States. And the entire premise was on Meg Ryan chasing down fiancé to France Timothy Hutton to get him back.
What's Your Number: Anna Faris chasing down neighbor/lover Chris Evans to a wedding concert to say how she feels.
The Wedding Planner: Matthew McConaughey chasing down Jennifer Lopez to stop her from marrying Justin Chambers (Alex Karev of Grey's Anatomy.)
My Girlfriend's Boyfriend: Christopher Gorham stopping his girlfriend at the start at the airport, though in his defense, he was writing a chicklit.
The Wedding Singer: Adam Sandler chasing Drew Barrymore by actually getting on the flight
How to Lose A Guy in 10 Days: Matthew McConaughey stopping Kate Hudson from moving to another city.
A Lot Like Love: Amanda Peet going after Ashton Kutcher to a wedding
8) Shot of frame while heads falling into pillows
Comedy series Coupling does it- but not for romance but for ultimate hilarity. And it is as unisex as a TV show can get.
9) Speech of the guy telling the girl all the things he likes about her- why she's the one
It's A Boy Girl Thing:Kevin Zegers counts why he'd rather be with Samaire Armstrong.
Love and Other Drugs: You got it. The speech after they got off the bus.
I may not be the biggest fan of the movie, but I do like the speech. Damn you, Gyllenhaal.
10) Love montages
The Ugly Truth: No love montage for the actual guy (Gerard Butler), but for Katherine Heigl and Eric.
Love and Other Drugs: Yes, there is a collection o f moments after Hathaway seems momentarily OK with being in a relationship. The soundtrack is great though, for the entire movie.
*
Now extra ideas from the video (No parodies but they mention them):
11) Public declaration of love:
The Ugly Truth: Gerard Butler to Katherine Heigl, though he doesn't know it's public.
27 Dresses: Katherine Heigl for James Marsden, at a wedding party she wasn't invited to.
The Wedding Singer: Adam Sandler to Drew Barrymore, through serenading on a plane. Oh, and the audience includes Billy Idol (playing himself!), so this might be my favorite audience to declare love in front of.
12) Pretending to be somebody else
Never Been Kissed – Journalist Drew Barrymore goes undercover as a high school student who ends up getting classes from the handsome English teacher Michael Vartan. Poor guy starts to feel upset for developing feelings for a student, which is highly inappropriate…though she does seem to have a much higher level of emotional intelligence and maturity and deepness than other 17-year-olds…
Killers: Ashton Kutcher, ex-hit man, not being honest about his job to Katherine Heigl.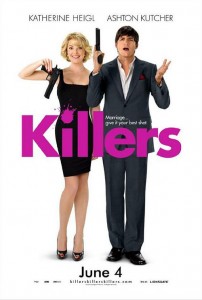 Let's face it. "Honey, I kill people for a living" doesn't work so well.
 13) Pretending to have a kid
14) It started as a bet but now I do love you
She's All That
15) Started off something else (hate, obligation…etc) but now it is love.
Couldn't quite catch this one, but I think it was: started off something else (hate, obligation…etc) but now it is love. This is a very popular one.
A Walk to Remember: Popular, troubled Landon (Shane West) needs Jamie's (Mandy Moore) help so that he can pull off an obligatory school play performance. He is unhappy at the idea since she is extremely uncool, the priest's daughter, conservative, serious and hardworking, unpopular- everything Jamie is not. But hey, in time…
Keith: High school student/outcast (by choice) Keith (Jesse McCartney) decides that he'll create a challenge for himself where he will get the popular/smart/successful/pretty Natalie to fall for him. Natalie (Elizabeth Harnois) will initially only want to hang out because he is her lab partner but then his differences will attract her, emotionally and physically. And maybe he created the challenge because he liked her all along…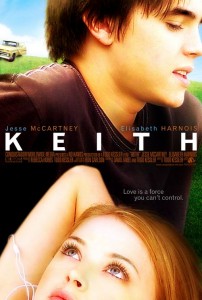 Dedication: Mandy Moore only suffers through working with the obsessive, rude and annoying Billy Crudup due to work obligations but when she finally tells him to shut it, he starts showing he is not that bad and well…he might just be hiding the good stuff as opposed to so many other guys hiding the bad.
Not that I'd call Dedication a chick flick. The characters are quirky, more true-to-life and the world feels real – with all the beauty, shittiness, bad choices and actual problem and conflicts coming together beautifully. I recommend it to everyone – but especially to guys. It's Billy Crudup, people!!!  
No Strings Attached: Ashton Kutcher and Natalie Portman – friends with benefits pact.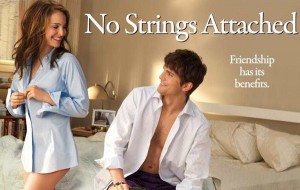 Friends with Benefits: Justin Timberlake and Mila Kunis –  friends with benefits pact.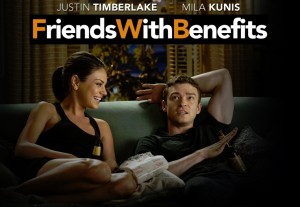 10 Things I Hate About You: Heath Ledger tries to woo fellow high school student Julia Stiles to earn money, but ends up falling for her. Larisa Oleynik, sister of Stiles, tries to use Joseph Gordon-Levitt to be able to date a popular kid, and Levitt is paying Heath Ledger to try keep Stiles happy so he can date Oleynik and…
Modern take on Shakespeare's Taming of the Shrew. Now, the man could write, but if Heath Ledger is there, even guys shouldn't whine and see the film. It really is fun. R.I.P. Heath. I was a fan long before Joker. Hell, Joker didn't do much for my admiration.
*
More clichés from me:
16) Ridiculously Cheesy Pop Soundtrack (a pet peeve of mine.)
Not all chicks like cheesy pop music!!!!
The Ugly Truth: Song during the love montage.
A Walk to Remember: Half Great alternative/modern rock soundtrack (which I liked), half cheesy pop mostly sang by Moore. However I do like the one she sings at the play- suits the mood, lyrics are great and another version is also featured.
17) Realizing that their true love was right in front of their eyes the whole time:
Made of Honor: Patrick Dempsey realizes that long time best friend Michelle Monaghan is his soulm ate only after she gets engage to Kevin McKidd (Owen Hunt) of Grey's Anatomy.
Win a Date with Ted Hamilton: Kate Bosworth finally realizes that Topher Grace is the man for her after dating the famous actor Ted Hamilton (Josh Duhamel.)
No Strings Attached: Ashton Kutcher and Natalie Portman decide to be bed buddies, and it takes a lot longer for Natalie Portman to see that he is the one, and not just in bed.
Friends with Benefits: Justin Timberlake takes a while to admit that he really wants Mila Kunis, and not just to sleep with her. Seriously, it is Mila Kunis. Did he honestly think he could do better?
18) Serenading
A Walk in the Clouds: (romantic drama). Keanu Reeves serenades to his fake wife, but he already has a wife (Debra Messing) so…
Sweet November: Keanu Reeves. To Charlize Theron, and he hates singing!
The Wedding Singer: Well, in his defense, Adam Sandler, does play a wedding singer.
19) Jerk/Player/Badass/Apathic Outsider turns out to be a misunderstand or pretending-to-be-like-that but actually nice guy!
The Ugly Truth: Gerard Butler is a player, but not because he is shallow.See cliché 21. He's ultimately a nice guy caring about his family, and definitely not a player when it comes to love.
Love and Other Drugs: Jake Gyllenhaal (Love and Other Drugs)- is apathetic and will sleep around bu the  falls in love with Anne Hathaway big time, and is ready to be there for her in sickness and in health- and especially in sickness since she has Parkinson's.
Someone Like You: Hugh Jackman starts sleeping around after his heart was broken but he slowly shows his true colors when his friendship with Ashley Judd deepends.
20) "You're not who I thought you were"
Prejudices/initial observations make the characters think/say negative things about the other person, only to realize, there's more than meets the eye (or prejudices and wrong impressions):
Pride and Prejudice: One of my all time romances, and probably the most popular case of He's so not who I thought you were!
Elizabeth (Keira Knightley) thinks Darcy (Matthew Macfadyen) is an arrogant jerk, whereas he is just shy, antisocial and reserved. He has flaws, but so does she and they are in fact a perfect match.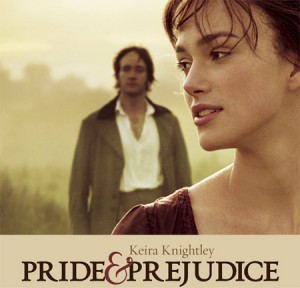 Catch and Release: The exact sentence is uttered by Gray (Jennifer Garner) to Timothy Olyphant's Fritz, who replies "Well, neither are you."
See, Gray thought Fritz was an insensitive jerk who didn't even seem to display grief at his best friend's death. The dead friend also happened to be Gray's fiancé. And Fritz thought she was this boring, stuck-up Miss Righteous. Turned out, they were both wrong-big time.
 10 Things I Hate About You: Heath Ledger realized Julia Stiles isn't boring or tough. And she has a secret. She realizes he is not a dangerous badass as everyone at school makes him out to be.
21) Being tough/slutty/badass/bitchy as a defense mechanisms
The Ugly Truth : Gerard Butler decent boyfriend turns into player after many bad relationships
Someone Like You: Ultimate player Hugh Jackman is only protecting his heart after his beloved/live-in girlfriend leaves him!
Love and Other Drugs: Anne Hathaway to protect herself from getting to rely on and needing others because of her disease.
22) Big/Tragic Secret or Tragic Illness (that may or may not be secret).
Forget Me Not: My favorite romantic movie and on my top 10 favorite movies list, but the premise/trailer revolves around the fact that the guy (Tobias Menzies) has a tragic secret.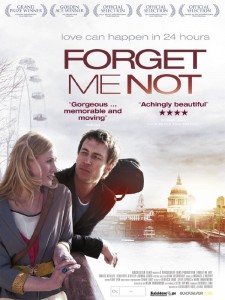 A Walk to Remember: Mandy Moore has a tragic secret. Come on, it is Nicholas Sparks! There has to be something tragic.
Message in a Bottle: Teresa (Robin Wright) hides her real reason for being near the sailor/widower McGarrett (Kevin Costner). Nicholas Sparks adaptation.He'll be really pissed when he finds out.
Killers: Secret: Career background
Sweet November: Charlize Theron is hiding something. Otherwise why would any sane woman designate a guy to every month, turn him into a better person/lover and dump them after the month is over.
The Lucky One: Nicholas Sparks. Soldier Zac Efron can't confess Taylor Schlling the real reason he's there.
Keith: Keith has a secret- hence the drama label.
This Means War: Both guys (Tom Hardy & Chris Pine) lie about their jobs. Well, they are CIA.
*
That's all for now. I hope you enjoyed the post and please don't forget to add examples in the comments that you can think of.
One Response to "22 Romantic Comedy (Chick Flick) Clichés- Inspired by Bradley Cooper, Justin Long & Kevin Connolly"